At our 4th Annual "Amazing Faith" Luncheon and Ceremony we will be honoring women who have demonstrated "Amazing Faith" in their community. This year's honorees: Pastor Rosalinda Rivera and Cameka Smith.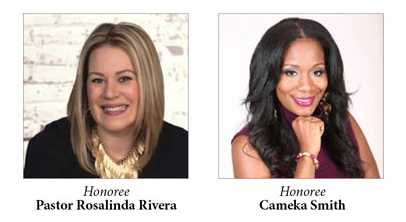 _____________________________Pastor Rosalinda Rivera
Rosalinda Rivera is an author, producer, inspirational and international speaker. She is the host of the talk show "Telling It Like It Is" with Rosalinda and her newest book "Dare to Begin Again" just released.  She is both outspoken and passionate about reaching the lost for Christ. She has been called for such a time as this to inspire ordinary women to become extraordinary heroes for Christ. Rosalinda continues to flourish as a role model for women of all ages. She is the Executive Director of New Life for Youth and founder of Bella Women's Ministry. She resides in Virginia with her husband and children."
_____________________________Cameka Smith
Speaker, trainer and award-winning entrepreneur – these are just a few words that describe Cameka Smith, Founder of The BOSS Network, a community of professional and entrepreneurial women who support each other through conversation, online engagement and event-based networking.  Working towards one simple goal, BOSS® is "Bringing Out Successful Sisters" to promote and encourage the small business spirit and professional development of women.
As the author of 7 Steps to Grow Your Professional Network: A Guide for College Graduates and Professionals in a Tough Economy, Cameka frequently travels to college campuses with her non-profit, BOSS On Campus and speaks on leadership topics nationally. Cameka currently resides in Chicago where she is actively involved in charity work and mentoring youth.